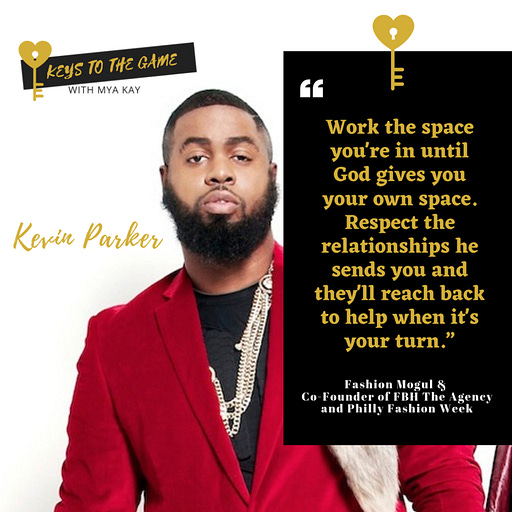 Jul 7, 2019 • 1HR 8M
Kevin Parker - Keys To The Fashion Game
The Girl Files is a relevant podcast that speaks to the areas of a girl's life that needs to be touched by The Gospel. Filled with wisdom, The Word and healing for today's teen girls and young women.
Kevin Parker, is a Fashion Mogul who brings the world of fashion to the city of Philadelphia where he was honored for his outstanding work in fashion by City Council in 2015 and listed as top 25 Fashion Icons in Philadelphia by the Philadelphia Inquirer. Kevin works closely with his staff and clients to produce the perfect events and craft the right styling for their clients lifestyle. After more than 10 years working and studying in the fashion industry, Kevin continues to soar as CEO of FBH, The Agency and Producer of Philadelphia Fashion Week, & a internally Published fashion stylist and Professional runway coach.
Through managing & training breakthrough Models, styling celebrities and local clients and producing Philadelphia Fashion Week Kevin Parker has made a major name for himself locally and abroad by attracting major press outlets such as O Magazine, Harper's Bazaar, WWD, Lucky Mag the New Yorker and many more . Philadelphia Fashion Week & Philadelphia Men's Style Week have featured designers from all over the world, such as Paris, London, Africa, India, Brazil and locally LA, NY, NJ and Philadelphia. Kevin's approach is uplifting, sincere, honest and extremely attentive as he gauges the needs of each particular project he takes on.
Kevin Parker graduated from the Creative and Performing Arts High School in Camden, NJ. Accepted into the University of the Arts, Kevin studied dance and subsequently began Modeling. Kevin began to develop a passion for modeling and pursued it further. Kevin began his career by interning and assisting other production companies with back stage assistance, runway model training. With the skills garnered there, FBH, LLC, was founded with business partner Kerry Scott. FBH later became, FBH, The Agency and produced its first fashion show and thus Philadelphia Fashion Week was born.
While the future is still in the making, through present feats, Kevin intends to continue to expand the brand by becoming a fashion stylist who is currently internationally published in publications such as Harper's Bazaar Vietnam, Fashizblack Magazine,(French Publication), Gia Magazine, Traffic Magazine for Men, Fashion Avenue News Magazine, Exalta Magazine & other Projects such as Vietnam's Next Top Model, styling for Couture Fashion Week NYC, celebrity Apprentice and many more. Kevin currently styles and organizes fashion segments with Fox 29, PHL 17 and many more for award season such as Met Gala, Oscars, Grammys, Emmys and more. Kevin's Passion along with his business partner will make FBH, The Agency, Philadelphia Fashion Week, Philadelphia Men's Style Week and FBH The Agency known around the world under the mentor ship of Fern Mallis creator of NYFW. Follow Kevin @kevinlparker and @philly_fashion_week. Visit the website for Philly Fashion Week at www.phillyfashionweek.org.