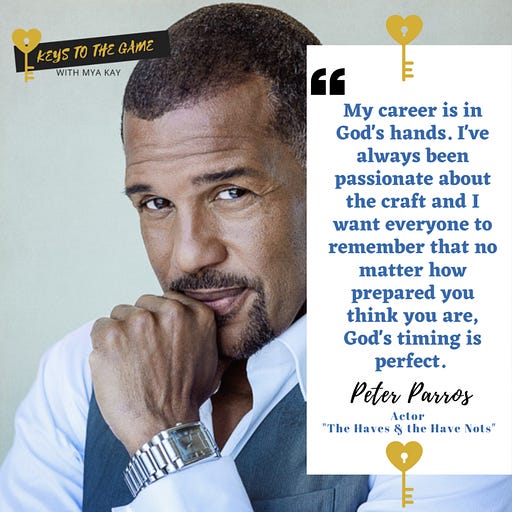 Jul 28, 2019 • 1HR 26M
Keys To The Hollywood Game - Peter Parros
The Girl Files is a relevant podcast that speaks to the areas of a girl's life that needs to be touched by The Gospel. Filled with wisdom, The Word and healing for today's teen girls and young women.
"A native of Brooklyn NY, and an Entertainment Industry veteran, with a career spanning more than 30 years, Peter Parros stars as ' David Harrington ' of "Tyler Perry's The Haves and The Have Nots" (OWN TV). Parros is also known for his longtime role as ' Dr. Ben Harris ' of "As the World Turns" (CBS), as ' RC3 /Reginald Cornelius, III ' , of the popular TV Series "Knight Rider" and as 'Officer Gus Grant ' of "The New Adam 12" Series. Parros' work has earned two NAACP Image Award nominations.

His TV Guest Star credits, include "Seinfield", "Castle", "CSI: Miami", "Law and Order", "Royal Pains", "Hangin' with Mr. Cooper", "Charles in Charge", "Star Trek: The Next Generation", "The Facts of Life" and "New York Undercover", Parros' film credits include "Death Before Dishonor " and "Real Genius". A member of the Writers Guild of America West, Mastermedia International , the National Academy of Television Arts and Sciences, and the Black Documentary Collective, in 2004 Parros also became a member of the Executive Advisory Board of Heritage Luminaries for the New Jersey Black Cultural and Heritage Initiative Foundation.

Parros has written and co-written movies, including "Something to Sing About" and "The Climb" which was voted "Best Picture" at the International Family Film Festival (2002) and International Christian Visual Media Awards' "Best Picture" . Additionally, in partnership with LaPhonso Ellis, Parros founded "Ten Talents Productions ", producing Christian Entertainment , including the "Kidz of the King Adventures" animated DVD and comic book series. Follow Peter Parros on Instagram and Facebook @officialpeterparros.