Why subscribe?
The Girl Files Newsletter, under the umbrella of Girls Anthem Movement, speaks to the areas in our lives that yearn to be touched by The Gospel. Let's get transformed together!
You know those files we like to keep stored away in our mind with all of our hurts, fears, trauma and insecurities? Yep. Those files. The ones that keep the areas of our lives that didn't get healed neatly tucked away. Well, baby girl, we ain't got time for that. We stepping into full healing and wholeness over here at Girls Anthem, a movement designed to equip girls with the tools they need to pursue destiny without compromising their values or their stories.
The Girls Files Newsletter consists of 4 components:
The Word File - a theme-based message of strength

The Song File - song of the month

The Resource File - great reads, dope organizations and upcoming events

The Beauty File (Real, applicable beauty tips and strategies)

plus, monthly discounts to the Girls Anthem Shop
The newsletter will discuss life and give unique insight that is needed to continue to pursue wholeness in your life, with the foundation being The Gospel. The newsletter will be sent out the first Monday of the month starting July 6, 2020.
I provoke you to better, not to "be comfortable", so your feathers may get a little ruffled. In a loving way, of course (wink).
Also, make sure you subscribe to The Girl Files Podcast for your inspiration and transformation. Subscribe via Apple Podcasts or Google Play (+7 other platforms).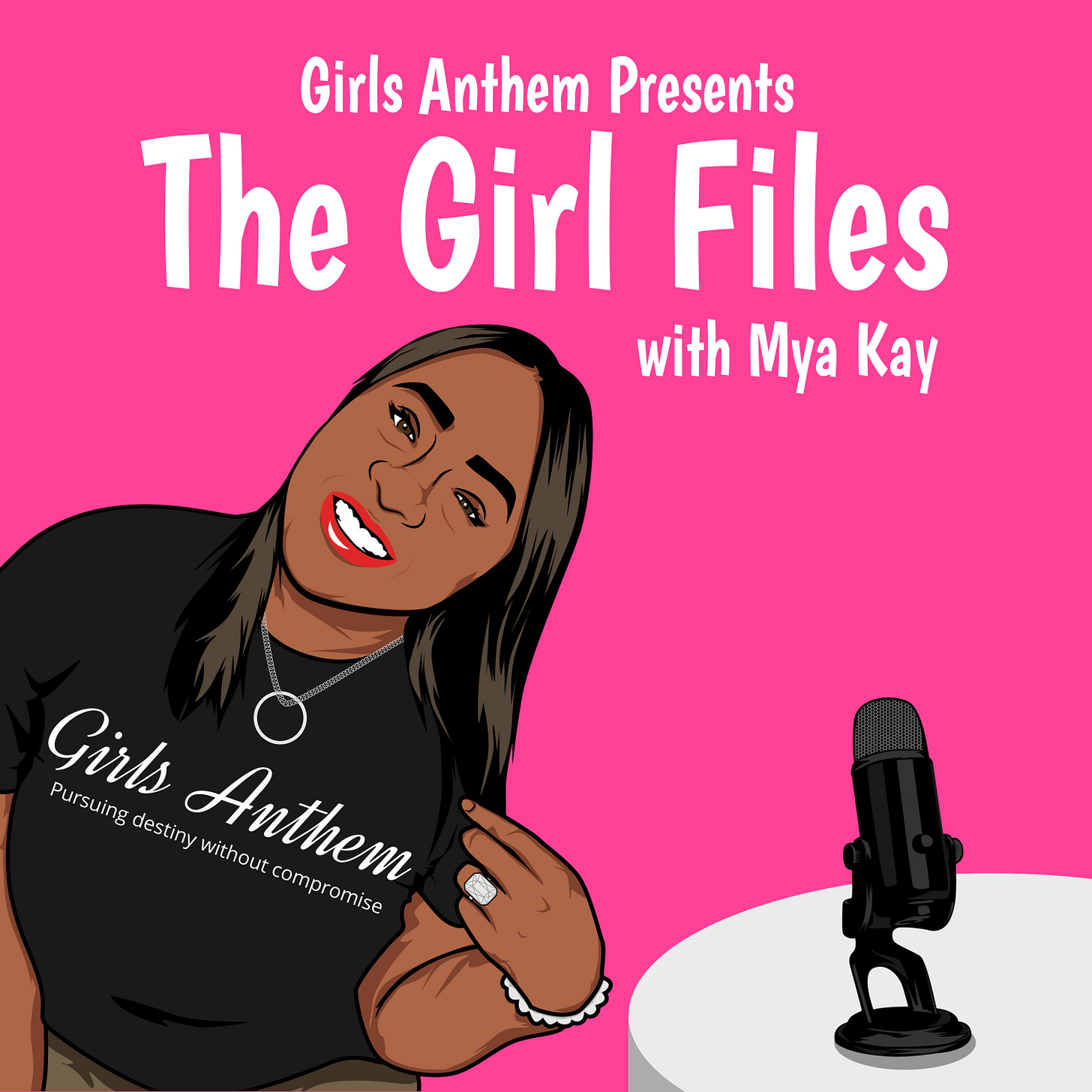 Stay up-to-date
See every update, read every newsletter, climb every mountain.
What past readers of my content/books have said:
"Mya's writing technique is phenomenal. She's a modern day Maya Angelou. A black woman using the English language to tell stories and change the world. She's an incredible woman."  – Barry "Cassidy" Reese, Platinum Selling Artist (Hotel, I'm A Hustla)

"Mya paints a very vivid and real life emotional picture with every sentence. Her writing fills me with joy, fear, anger, anticipation and a host of other emotions that keep me reading on and rooting for her characters." – Terri J. Vaughn, Award-winning Actress from "The Steve Harvey Show", "All of Us", "Soul Food" and "Meet the Browns"

"My goal as I travel the country and perform as a comedian is at some point to become a person's favorite comedian. After reading Mya K. collection of short stories, I can honestly say I have a new favorite author. In one word, Mya is Awesome. I hope you enjoy her work as much as I did." – Rodney Perry, Actor/Comedian, Co-host from BET's The Mo'Nique Show, Actor "Madea's Big Happy Family"

FAQ
How can I read a subscriber update?
You can read a subscriber-only update in email, or on the website. If you click through from your email you will be automatically logged in. If you come to the website separately, you can log in through the Membership page.
What do I get when I subscribe?
Paid content will be available later. For now, join Girls Anthem by subscribing for free to the newsletter.
Can I forward the emails?
Yes.

Subscribe to Single & Divinely Preparing
People